I want it all – new user portfolio for A1 Hrvatska webshop
For our client A1 Hrvatska, our expert team of developers successfully completed the webshop upgrade project to make the webshop even more user-friendly and enable even more services in one place with just a few clicks. A1 Hrvatska focuses on users' needs and constantly plans new updates so that their webshop would provide users more practical solutions.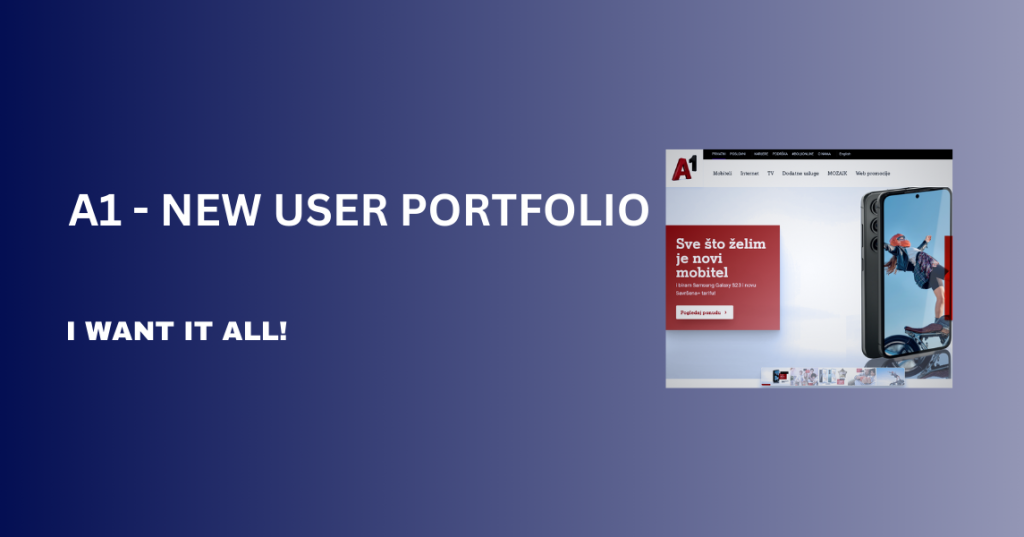 What's new on webshop?
Last complete portfolio update was first introduced in 2020. Since then, A1 Hrvatska has gained tens of thousands of new users. Today, 98% of the mobile customers and 91% of fixed services customers are a part of this portfolio. This revolutionary option provides customers a number of benefits by grouping services on one account. Now, A1 Hrvatska webshop is fully adapted to the current needs of users in telecommunications. This update is extremely important because it's essential for smoother and more successful business operations. The current webshop not only looks good, but also offers users an exceptional experience. This launch which is now released, is an improved version of this approach to users – the focus is still on user needs, which are thoroughly researched and analyzed before the project is launched. The result was a detailed development plan that served as our roadmap.
Working with Netgen and Human, we ensured a high-quality design that appeales to users and provides them with an intuitive experience. We accurately visualized each step of the consumer journey and made sure every element was in place, regardless of what device or search engine the visitor was using. In addition, within the framework of this project we have carried out a complete redesign of the webshop and the personalization of the Product Listing Page (PLP) and the Product Detail Page (PDP).
New portfolio benefits
This offer includes a combination of mobile and fixed services and television. The following services that are now live and can be enabled easily:
new tariff plans that have +5GB mobile data
Savršena+ tariff (unlimited mobile data, unlimited SMS and minutes, one month free mobile screen protection and SafeNet)
the possibility to test new services for free in all major tariffs
fixed Internet options (Giga NET, Mega NET, NET + TV options)
router and mesh device at the same price (in Giga NET option)
TV which you can use on all screens and in any place
premium TV content
insurance, cyber security, entertainment and gaming – all in one place
Our way of developing A1 webshop is through planning and cooperation with partners, precise designs, careful testing and post-launch support.
We believe that our experience and approach can benefit other clients who want to create an up-to-date and attractive webshop that stands out from the rest. Feel free to reach out at info@optimit.hr!