Experiences in implementing the CAP.CAP Early Warning System
At the conference of the Croatian Platform for disaster risk reduction, held on October 10 and 11, 2018, we presented our own experiences in implementing the CAP.CAP Early Warning System.
The conference gathered over 190 participants from different walks of life: scientists, scientific institutions and organizations, state bodies, the private sector and the local community. Themes were structured into five main categories: disaster risk reduction strategies and policies, reducing flooding disaster risks, reducing catastrophic earthquake's risks, reducing catastrophic fires' risks, as well as other risks and emerging risks.
Benefits and specifics of the CAP.CAP System
OptimIT presented the CAP.CAP Early Warning System implemented in eight Caribbean states. It is a modern system that allows authorized personnel, through various communication channels, to send alerts and notifications of all kinds of threats or other information to the targeted population of a given area. The system combines modern technology with classic warning channels thus providing easy, fast and accurate communication.
Communication Channels and Dissemination methods
The Caribbean Islands, due to their seismological and hydrometeorological characteristics, are exposed to frequent threats of catastrophic events. It is therefore necessary to establish an efficient system for early alerting and warning. State administrations have sought a system that allows messages to be sent about "all kinds of threats" to "all alerting dissemination methods", thus making the system a single point of communication to the public and connected institutions in crisis. The application is designed with ease of use, long term sustainability and reduced implementation, training and maintenance costs.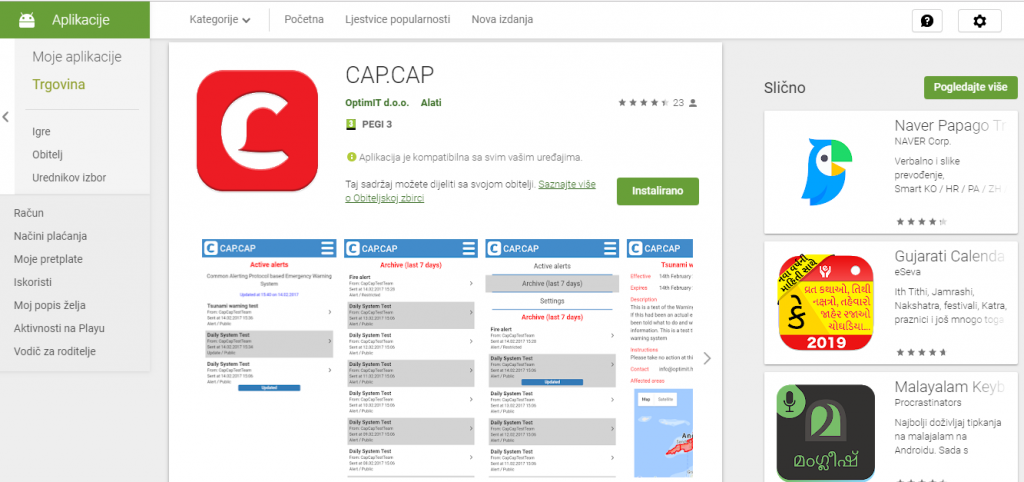 An additional challenge was developing support for a tourist hubs where different languages are used, and infrastructure is limited or poor. The application offers simple, quick communication to target groups in multiple languages.
Additional CAP.CAP solutions
Feedback from users and tourists in the Caribbean are very positive. Due to the multifaceted benefits of the application, there is great interest in extending and implementing the CAP.CAP system to the surrounding countries. The area of ​​interest is not limited to countries threatened by disasters such as earthquakes, floods, volcanic eruptions and the like. The application is tailored to inform any target group of people in various ways and through various communication channels (for example, employees or tourists within a tourist complex, shopping malls and the like).
More information can be found on our CAP.CAP site.