A1 Hrvatska conversion to euro €
The transition of Croatia to the euro as the official currency was a significant event of the year that impacted the business of all companies. In line with the transition to a new currency, all companies had to adapt their operations. Online shopping has been continuously on the rise in recent years, with more and more consumers turning to online purchasing of products and services.
A1 Hrvatska is a well-known premium brand in the telecommunications industry, known for providing best-buy and flexible plans with a focus on simplicity and transparency. They are also a long-term client of ours, having utilized the Intershop platform for their e-commerce operations. As with all businesses in Croatia, the transition to the euro as the official currency required them to adapt their operations. A1, like many companies in Croatia, faced the challenge of converting their webshop to the euro.
Our euro € journey with A1 Hrvatska
Our project with A1 Hrvatska began when they approached us to handle the conversion of their webshop to the euro. We understood the importance of this project and approached it with the utmost seriousness and dedication.
The most critical aspect of the conversion was to ensure an uninterrupted user experience during the conversion period for all users who were browsing the webshop and making transactions at that time. To achieve this, our team at OptimIT leveraged our expertise and knowledge in software and e-commerce solutions, as well as our proficiency in the Intershop platform. We were able to plan and execute the conversion in a way that minimized any disruptions to the webshop's service and allowed for a smooth transition for customers.
We worked closely with A1 Hrvatska team to understand their specific requirements and tailor the conversion to meet their needs. Our long-term partnership with A1 and our in-depth understanding of their business operations helped us to anticipate and address any potential issues that may have arisen during the conversion process.
In the end, our efforts paid off and we were able to complete the conversion within 3 months while maintaining seamless service for users. A1 Hrvatska webshop was successfully converted to the euro, and their customers were able to continue shopping and making transactions without interruption.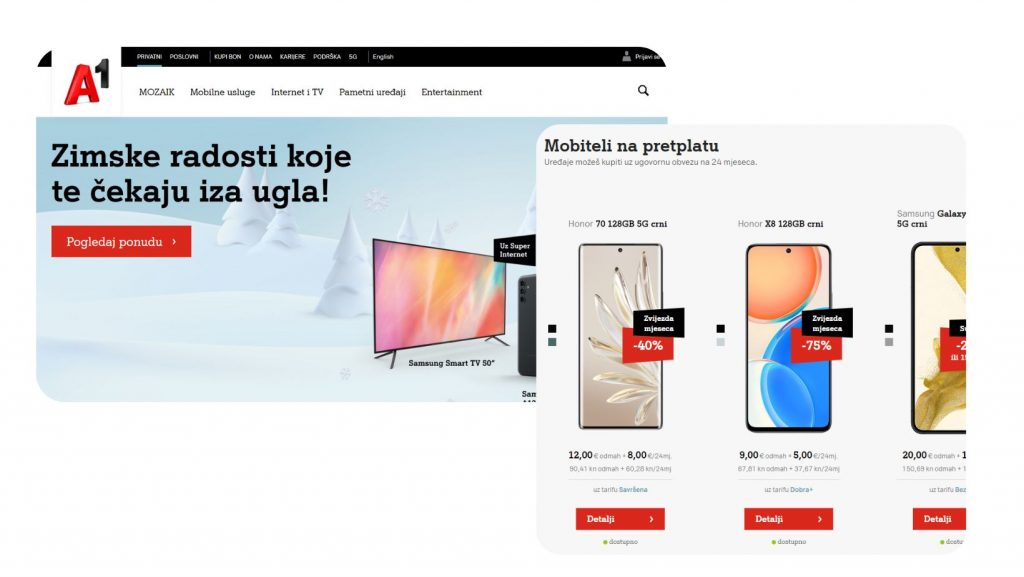 Intershop platform expertise and increase in popularity of online shopping
To sum up
Our team at OptimIT boasts a unique blend of expertise, long-term partnerships, and proficiency in the Intershop platform, positioning us as the premier choice for e-commerce solutions.We love producing and delivering high-quality software solutions. The satisfaction of our clients is our first priority and as such is important. We strive for excellence by pushing the limits and achieving exceptional results while maintaining a friendly and professional approach. As a top e-commerce solution provider and Intershop Silver Partner, we look forward to continuing to exceed expectations for our clients.