A1 Hrvatska
E-COMMERCE, INTERSHOP COMMERCE MANAGEMENT
Long term cooperation between companies OptimIT and A1 Hrvatska continues with major success for our team. In extremely short period, our team has successfully developed and launched the complex online shop for customer A1 Hrvatska on the newest version 7.10 of the Intershop Commerce Management platform.
Ideja, tko, što
In 2006 Croatian leading provider of mobile services – A1 Hrvatska Ltd. (former VIPnet Ltd.) observed continuous increase of online shop's users, so the Company decided to try selling their products online. Since we already had good and successful cooperation on project B2B Portal PartnerWeb that was deployed and implemented on Intershop Enfinity Suite 6, OptimIT team was again chosen for development of new sale channels.
This cooperation and partnership last until this day. Furthermore, in November 2018, A1 Hrvatska complex online shop was the first web shop in the world launched on the new, improved Intershop Commerce Management platform, version 7.10. This success is our pride and joy!
Izazov, cilj
Our goal was to accomplish four things: improve user's experience in a way to get simple and practical sale channel; to ensure more secure payment methods, to highlight new possibilities for product delivery and to speed up the end-to-end online purchase process – from placing a product into the virtual basket all the way to activation of service on user's device.
Considering that, and in cooperation with the Customer, OptimIT developed a multi-functional, entirely customized online shop that can support great number of visitors and transactions, as well as provide personalized post-paid price model of telco services for each individual customer.
Special challenge was integration of the developed solution with different platforms and systems used by the Customer, such as SAP, TIBCO, Oracle Siebel, PayPal and Corvus PGW. Due to this integration, users can get personalized offers, tailor-made just for them, and possibility to activate new and change existing services in the shortest possible interval.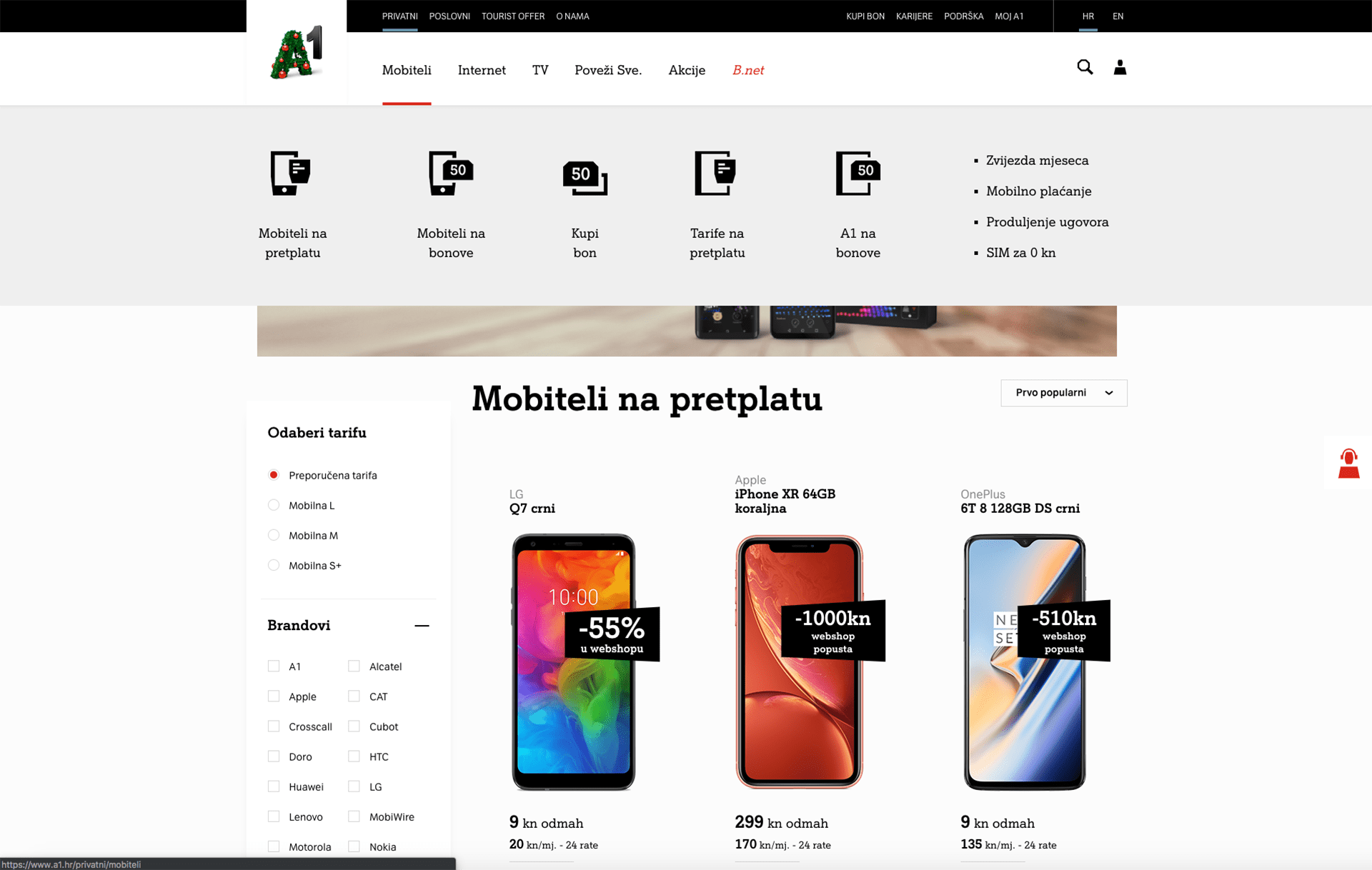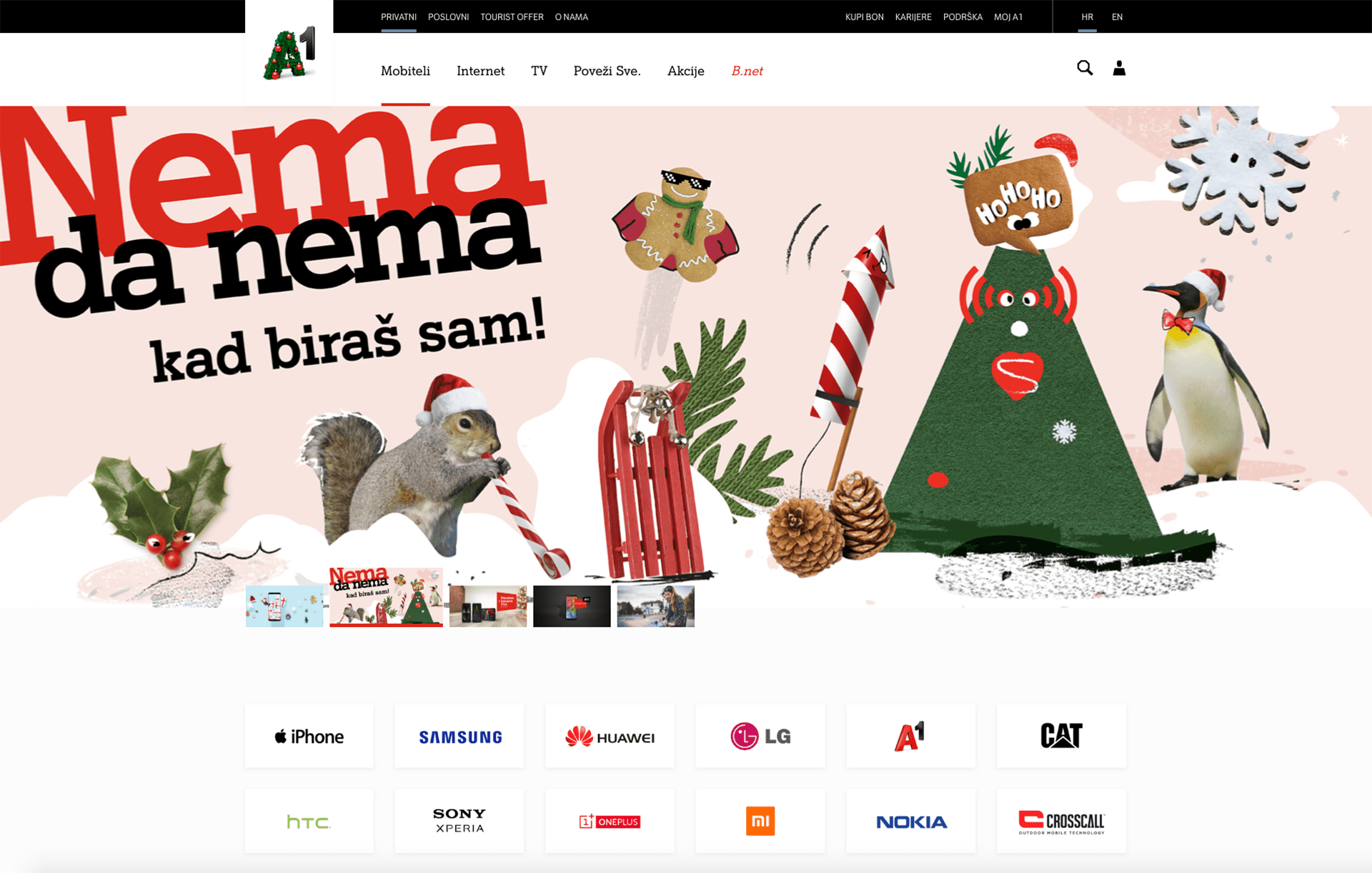 Strategija, tehnologija, rješenje
Intershop Commerce platform was chosen for this project because of its scalability and potential for extending new functionalities. This is scalable solution that can be completely adjusted and tailor-made according to specific needs of telco companies.
Online shop's main functionalities include product import from external SAP ERP as Customer's central business system, product classification, user's identification according to registered phone numbers trough integration with CRM system, defining discounts and promotions based on retrieved user's data, as well as tracking of order status and activation of services with users through integration to TIBCO system that provisions the information to all the relevant customer's systems. From user's perspective, registration, search and product ordering, as well as pre-paid and post-paid subscriptions, are enabled seamlessly. The ordered device can either be delivered to user's address or picked up at the A1 Hrvatska store and the ordered service will be automatically activated once the device is ready.
Online shop is integrated with other systems necessary for electronic business, such as payment system for charging credit cards, business systems with product, services and subscriber's data, SMTP server for sending e-mails and so forth. Unique application for all Customer's systems is enabled through a platform for unique user's authentication, as well as the Oracle Siebel CRM system to ensure a unique offer and personalized user's experience.
Modern, visually attractive interface is based on the cutting-edge web design solutions that is developed in cooperation with the best creative companies in the market. The result were two awards for the best online web site of the year 2018 (MIXX Best Website 2018. i SoMo Web 2018.)
Over dozens more modifications and system upgrades were implemented on a monthly, and even weekly basis since November 2018.
This complex project is implemented in cooperation with following companies and partners: WEB.Burza, Netgen, CROZ, Integracija od-do, CS Computer Systems.